Why I LOVE green smoothies:
There are countless reasons why incorporating more vegetables, especially leafy greens, in our diets can positively influence our health.  I find the simplest and quickest way to increase my vegetable intake is by blending greens and taking them with me on-the-go. Here are some of the reasons I aim for one green smoothie a day:
1) Increasing fruit and vegetable consumption (leafy greens in particular) helps prevent heart disease.
2) Green vegetables contain compounds that support our immune system.
3) Greater leafy green consumption has been associated with lower rates of type 2 diabetes.
4) Spinach can help stabilize blood sugar levels. 
5) Kale provides greater calcium absorption than milk.
6) Fruit and vegetable consumption decreases the risk of cancers of the stomach, esophagus, lung, oral cavity and pharynx, endometrium, pancreas, and colon.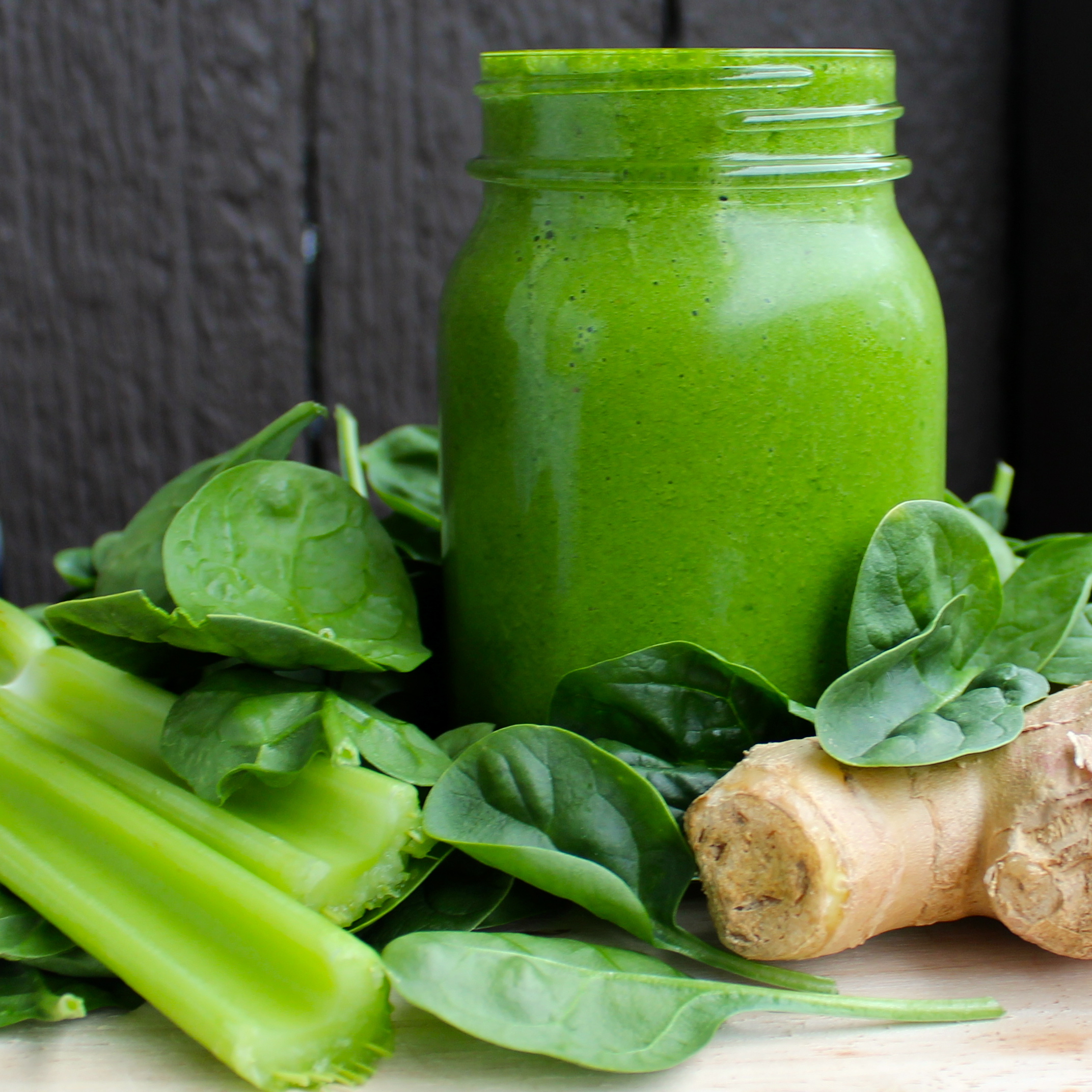 Disclosure: I receive a small commission when the following products mentioned are purchased through my links (thank you!). This allows me to provide you free articles and social media content daily. I only work with brands I adore and use myself.
Basic Green Smoothie:
spinach

avocado

banana

fresh ginger

nut milk

ice

optional add-ins: vegan protein powder, matcha tea, ground flaxseed, vitamin and mineral powders 
The full recipe for this green ginger goddess smoothie can be found in my vegan eBook: Cooking with Compassion – 30 Vegan, Gluten-Free Recipes to Nourish Ourselves, Our Families & Our Planet 
PCOS POWERS:
spinach = anti-inflammatory, low glycemic index, anti-cancer effects, excellent source of iron, magnesium, & calcium, avoid large amounts if prone to kidney stones or taking blood thinners
fresh ginger = anti-inflammatory, may help decrease fasting blood glucose and HbA1c
avocado = anti-inflammatory, low glycemic index, high in fiber, may help lower LDL "bad" cholesterol and maintain normal serum total cholesterol levels, contains glutathione which has anti-carcinogenic properties and may boost immunity
PIN FOR LATER:

For more delicious smoothies packed with antioxidants check out this post.