Nourish your body, mind, and visual senses with this harvest vegetable bowl. It's a hearty, nutritious, and delicious meal inspired by seasonal fall vegetables. I paired it with a creamy, dairy-free, anti-inflammatory dressing made from hemp seeds, ginger and turmeric. This oil-free dressing is so delicious I have been drizzling it on everything from salads to grains, and even using it as a dip for veggies. The recipe for this dressing can be found in my vegan recipe eBook.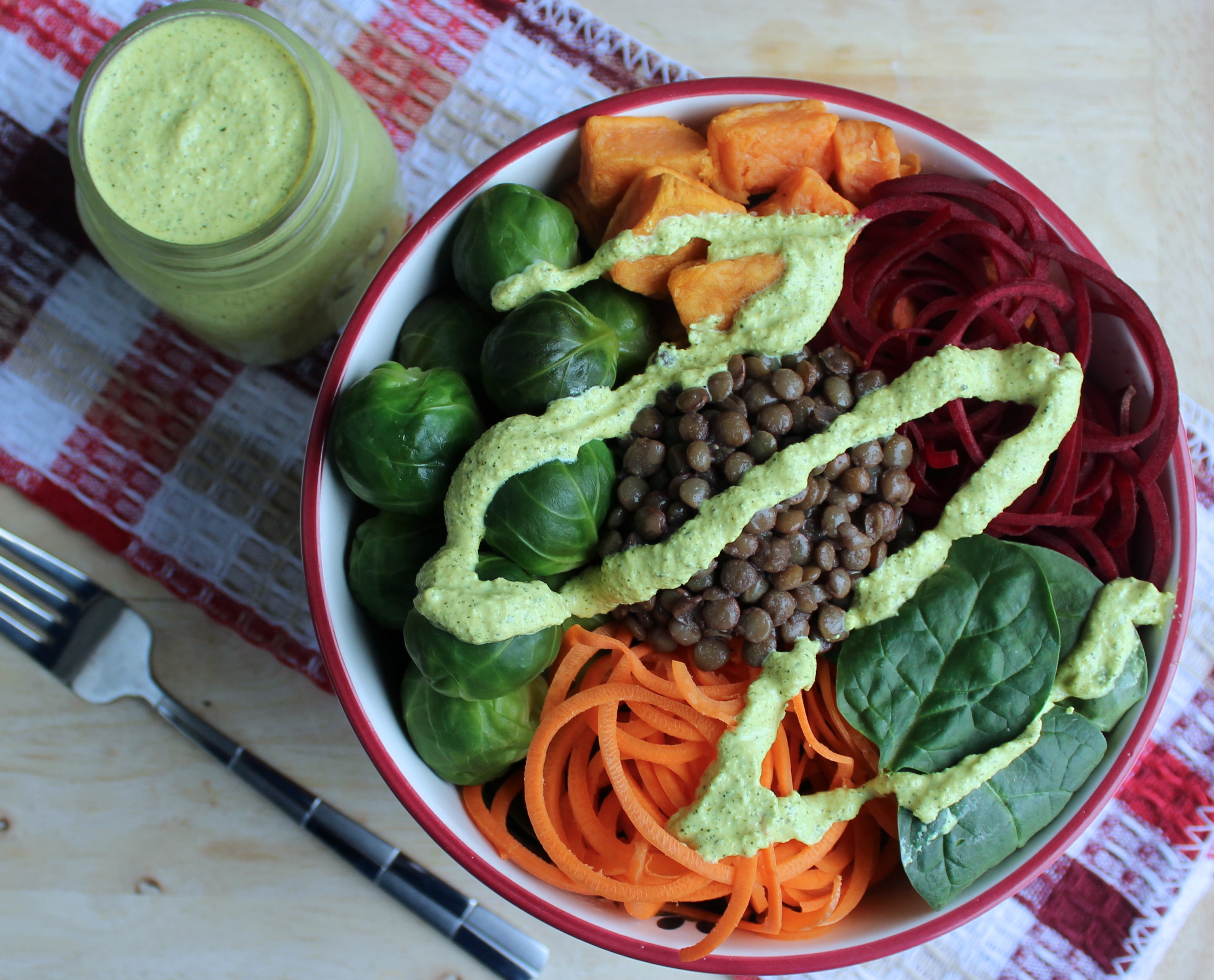 Curious about hemp seeds? My family has been consuming hemp seeds for years. The nutritional benefits of hemp seeds are incredible. Not only are they high in protein, but they contain all the essential amino acids which makes hemp seeds a complete protein source. They are also great sources of fiber, iron, magnesium, calcium, zinc and vitamin E. Hemp seeds are easily digestible and contain a well-balanced ratio of omegas 3, 6, and 9 which is important for our immune systems and maintaining heart health. Lastly, they contain arginine and gamma-linolenic acid which have both been associated with a reduced risk of heart disease. Their nutty, mild flavor is unique and worked well with ginger and turmeric in this dressing (talk about an anti-inflammatory trio!).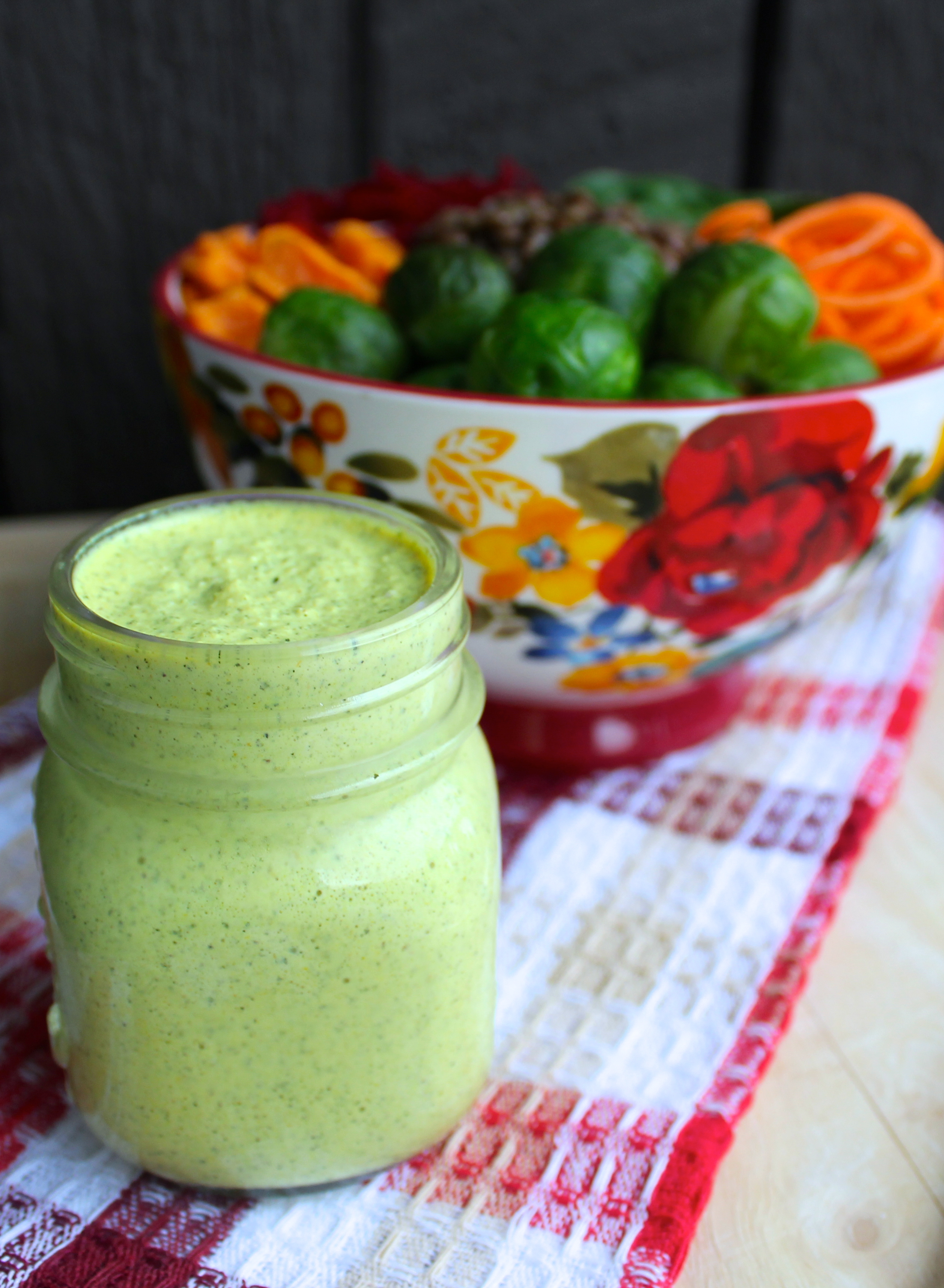 Giant vegetable bowls are incredibly quick and easy to throw together, especially if you prepare some of your ingredients beforehand. Design your own with any variety of fall vegetables. As usual, don't forget to check out the 'PCOS Powers' which I list at the end of the recipe (there are many in this vegetable bowl!).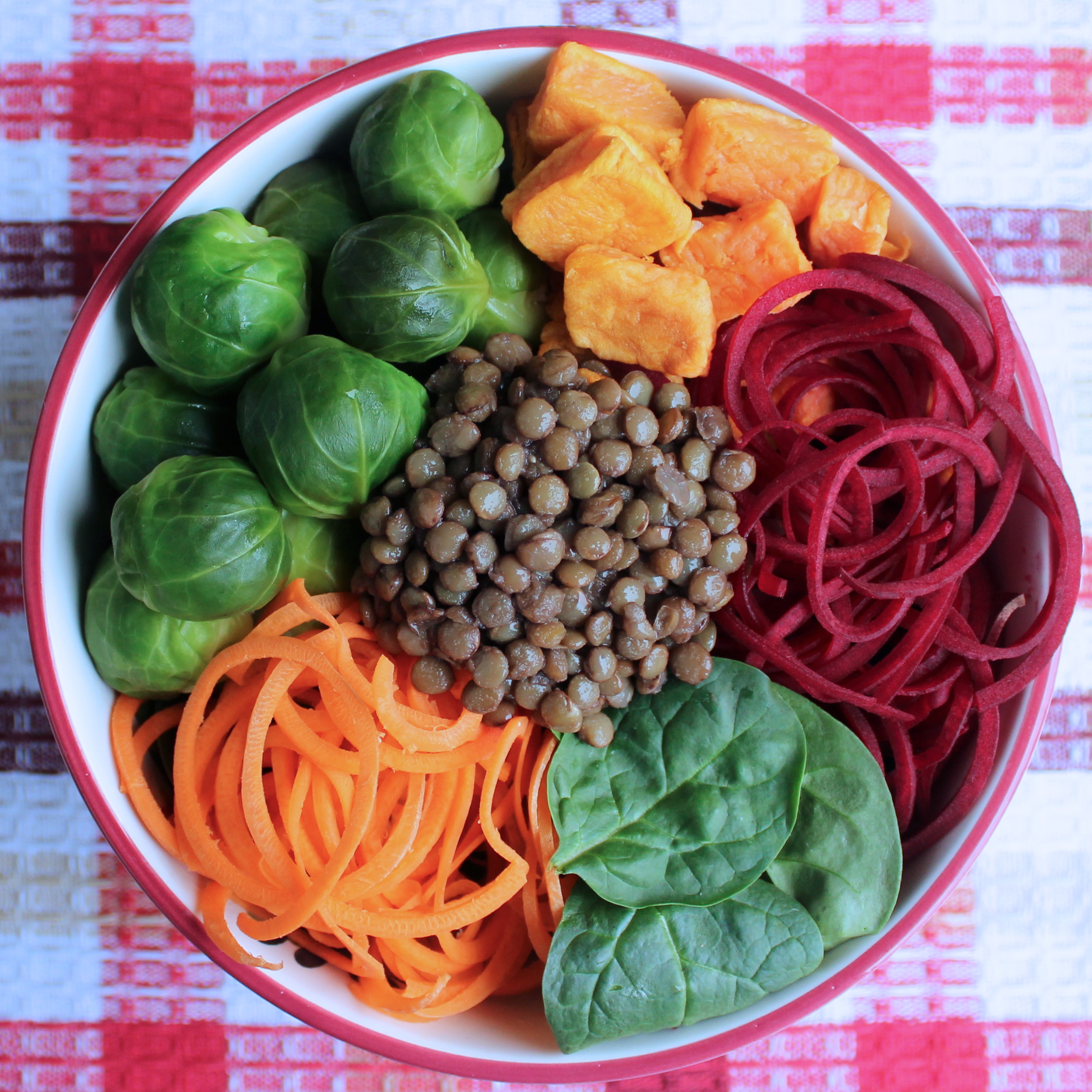 Autumn Vegetable Bowl:
1 cup Brussel sprouts

1 large carrot

1 small beet

1 cup sweet potato or yam

1 cup cooked lentils

2 handfuls organic spinach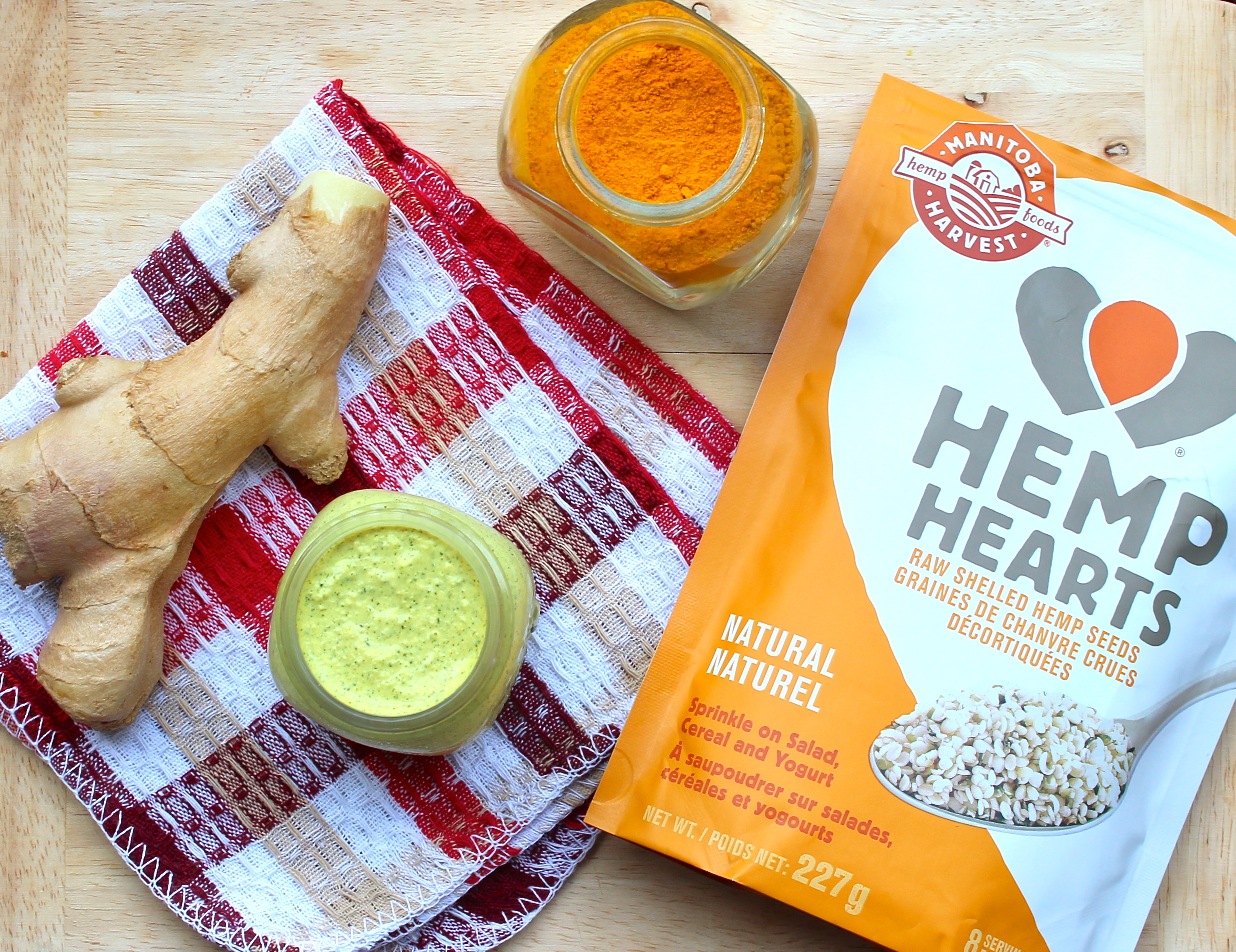 What You'll Need:
How to:
Cook the lentils, Brussels sprouts and sweet potatoes. I boiled the lentils and steamed the Brussels sprouts and sweet potatoes. You could also roast the veggies. Steaming retains more nutrients than boiling.

Spiralize the beet and carrot. I ate these raw but they can be steamed for easier digestion. Set veggies aside.

Blend all ingredients for the dressing in a food processor until smooth and creamy. Transfer to a small jar to store in the fridge after using.

Place pile of cleaned spinach in the bottom of a bowl.

Add vegetables on top of the spinach and drizzle with dressing.

Enjoy your nourishing vegetable bowl!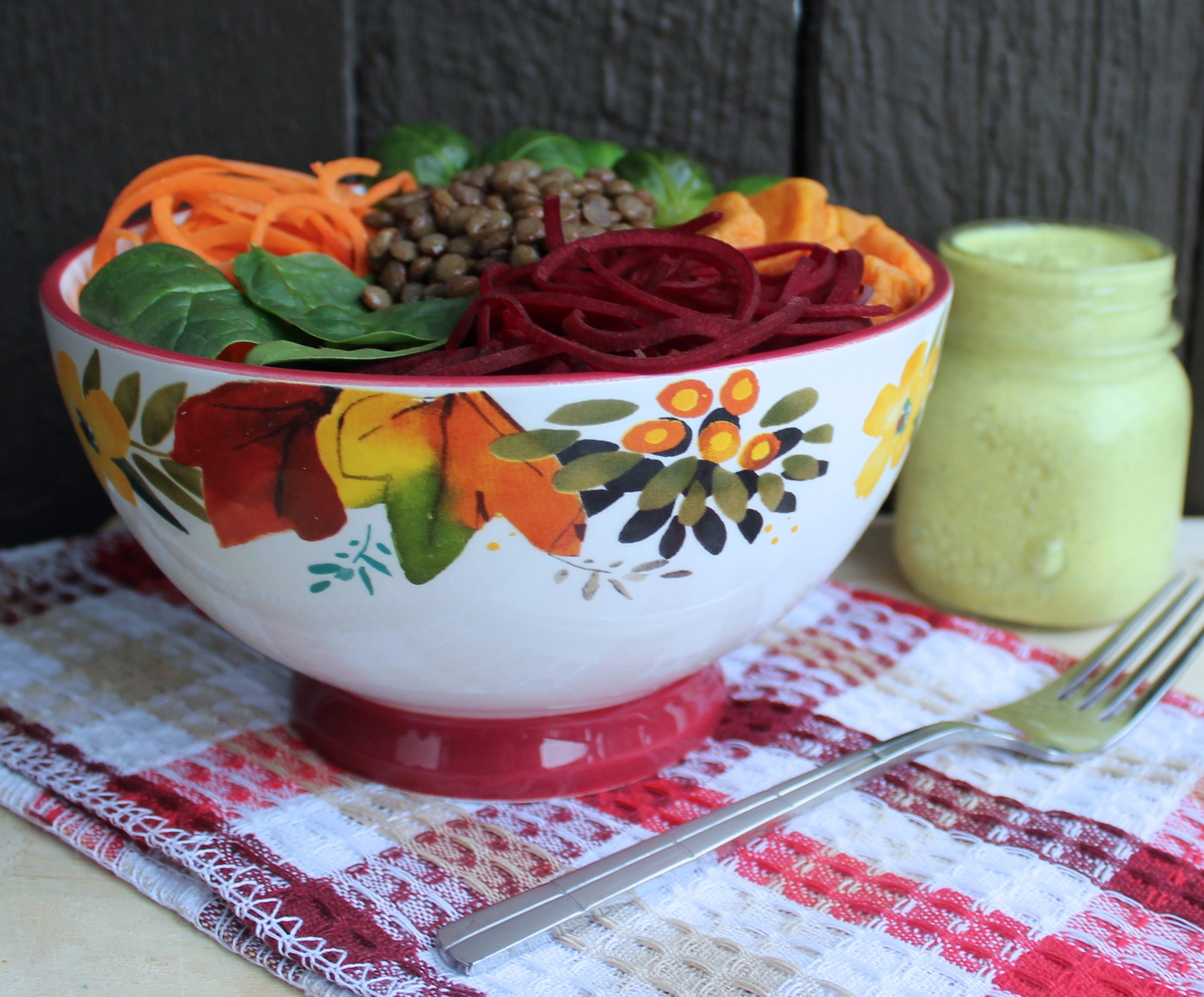 PCOS Powers:
hemp seeds = high in protein, fibre, and essential fatty acids (omega 3, 6 & 9) which may improve cholesterol profiles, may reduce inflammation
turmeric = anti-inflammatory, helps lower blood glucose levels, anti-depressant, black pepper increases bioavailability
ginger = anti-inflammatory, may help decrease fasting blood glucose and HbA1c
beets = good source of folate, anti-inflammatory, helps lower blood pressure, may help lower cholesterol, shown to reduce cancerous tumors in various animal models, beet leaves are high in iron (eat in moderation due to high oxalate content which can worsen gout and kidney stones)
spinach = anti-inflammatory, low glycemic index, anti-cancer e

ffects, excellent source of iron, magnesium, & calcium, avoid large amounts if prone to kidney stones or taking blood thinners

sweet potato = anti-inflammatory, medium glycemic index food but high in fiber & studies have shown they may assist blood sugar regulation, high in beta-carotene which may improve fertility, may increase adiponectin levels in those with type 2 diabetes, shown to reduce the risk of pancreatic cancer
Brussels sprouts = anti-inflammatory, good source of fiber, manganese, potassium, choline, and B vitamins, contain glucosinolates which help prevent cancers
Note: Manitoba Harvest generously sent me a bag of their hemp seeds to try in a recipe.