This triple-decker berry smoothie is a triple threat. It packs a punch with three powerhouse berries: blueberries, raspberries, and blackberries. We are exposed to free radicals every day. However, the high antioxidant content of berries can provide protection. In high amounts, these free radicals can result in oxidative stress, a process that plays a role in the development of several chronic diseases.
Anthocyanins are the phytonutrients in berries that give them their beautiful blue, red and purple colors. Multiple studies have shown that anthocyanins can reduce hypertension and the risk of heart attack in women. They may also decrease inflammation and age-related diseases, like dementia and Alzheimer's.    
Berries for PCOS
The high fibre content of berries, along with a low glycemic load, makes them beneficial for balancing blood sugar and insulin levels which are important steps in managing PCOS. In addition, berries have been shown to lower LDL cholesterol levels. Evidence suggests up to 70% of women with PCOS may have elevated LDL and decreased HDL cholesterol levels. Increasing antioxidant intake may help decrease anxiety and depression which are associated with PCOS. 
Berries for Fertility
Antioxidant intake can influence both female and male infertility. While research is limited, consuming high-antioxidant foods, like berries, may improve egg and sperm quality. In addition, anthocyanin has been shown to support the uterine lining increasing the chance of implantation. To benefit from these antioxidant properties of berries, it is important to buy organic berries. One study found that men who ate more produce with a high concentration of pesticides had lower sperm counts than those with the least pesticide intake.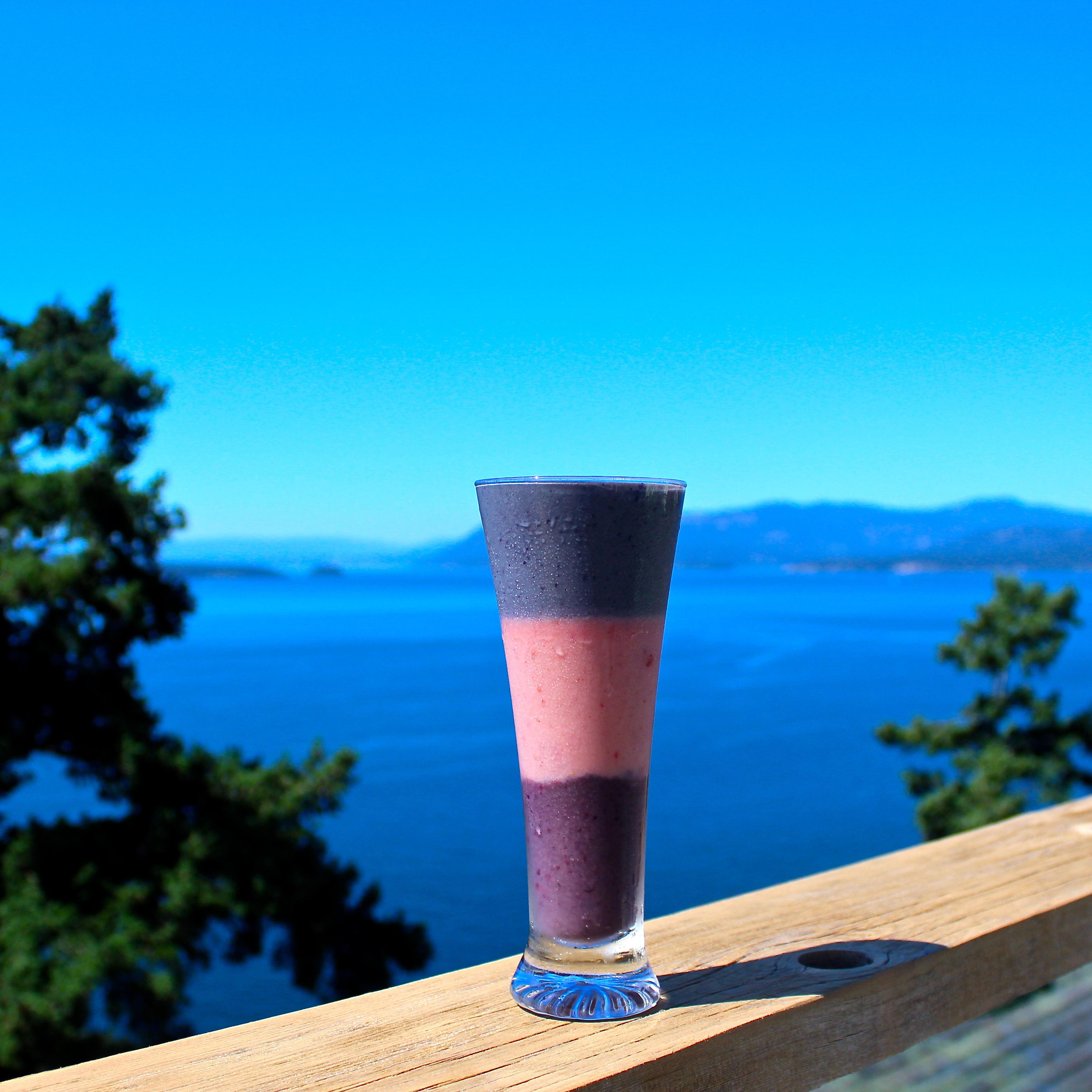 Ingredients:
frozen blueberries, 

raspberries, and 

blackberries (organic)

nut milk

plant-based protein powder
Instructions:
Blend the bottom layer first by combining blueberries, nut milk and protein powder. Limit the liquid for a thick layer that will support the following layers easily. Pour into a tall glass and pop into the freezer to firm up before adding the next layer.

Clean blender and begin next layer by combing raspberries and nut milk. Pour this layer carefully over the first layer. You can use a spoon to dip into the raspberry layer in order to straighten out the line separating the two layers. Pop into freezer again.

Clean blender and begin final layer by combining blackberries, nut milk and protein powder. Pour final layer carefully into your glass.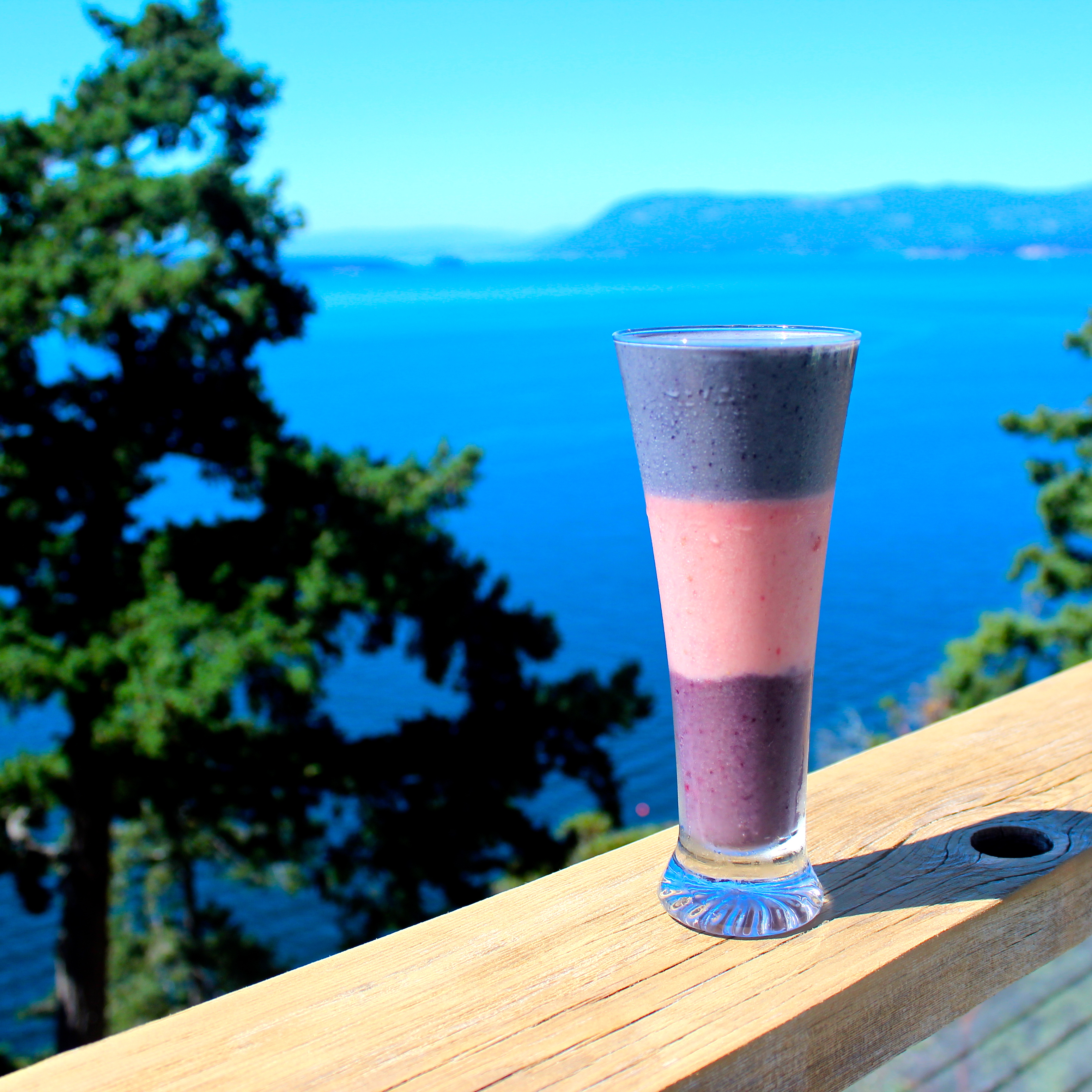 PCOS Powers:
Berries are great sources of antioxidants, flavonoids, resveratrol, ellagic acid, fibre and a low glycemic fruit. 

Hemp protein powder

is a source of plant protein and essential amino acids omega-6 and omega-3 (in a 3:1 ratio). While animal proteins may increase insulin-like growth factor 1 (IGF-1), plant proteins have been shown to decrease IGF-1. In addition, the risk of infertility may be decreased when animal proteins are replaced with plant proteins.
Dairy-free meals are important for PCOS for several reasons, especially if acne is a symptom. Dairy may increase insulin levels which contribute to increased cellular growth and acne. High insulin levels may also increase androgen production. Milk hormones like IGF-1 and dihydrotestosterone (DHT) both increase androgens. In addition, dairy contains casein which, when consumed with berries, can counteract the beneficial antioxidant effects of berries.
PIN FOR LATER: