In case you haven't been introduced to my designated tea cupboard, I am a tea fanatic. While many high-paced individuals may rely on coffee to get through a day, tea is my drink of choice for numerous reasons. This article discusses the evidence-based healing powers of chamomile tea and highlights a local tea company committed to providing sustainable, fair-trade, high-quality tea.
Potential Health Benefits of Chamomile
1. Anti-Inflammatory
Studies have shown that chamomile can reduce inflammation (2010). Inflammation may be at the root of several medical conditions, including PCOS, IBD, Crohn's, Alzheimer's, atherosclerosis, non-alcoholic fatty liver disease, and more (2018).
2. Cardiovascular Health
The antioxidants in chamomile tea can help reduce cholesterol levels and blood pressure. One study demonstrated that when diabetics drank chamomile tea with meals, their cholesterol profiles improved (2015).
3. Immunity
Chamomile appears to be anti-bacterial and may help fight off colds. A study demonstrated that inhaling the steam of chamomile may reduce symptoms of the common cold (1990). Pre-clinical studies have shown that some of the bioactive components of chamomile can reduce the growth of skin, prostate, breast and ovarian cancer cells (2010).
4. Anxiety Relief
Several compounds of chamomile have a calming effect, particularly apigenin. Animal studies have shown that chamomile extract can act as a sedative that could alleviate stress, anxiety, and insomnia. Clinical randomized controlled trials have shown that oral chamomile extract can significantly decrease anxiety in those with mild to severe generalized anxiety disorder (GAD) (2016).
5. Glycemic Control
Slowing the digestion of carbohydrates and the absorption of sugar can positively affect blood glucose levels and, therefore, prevent insulin resistance and type 2 diabetes. Compounds in chamomile appear to have this action (2018).
6. Menstrual Cramps
Drinking chamomile tea may relieve muscle spasms, including menstrual cramps, by releasing glycine which acts as a nerve relaxant (2005).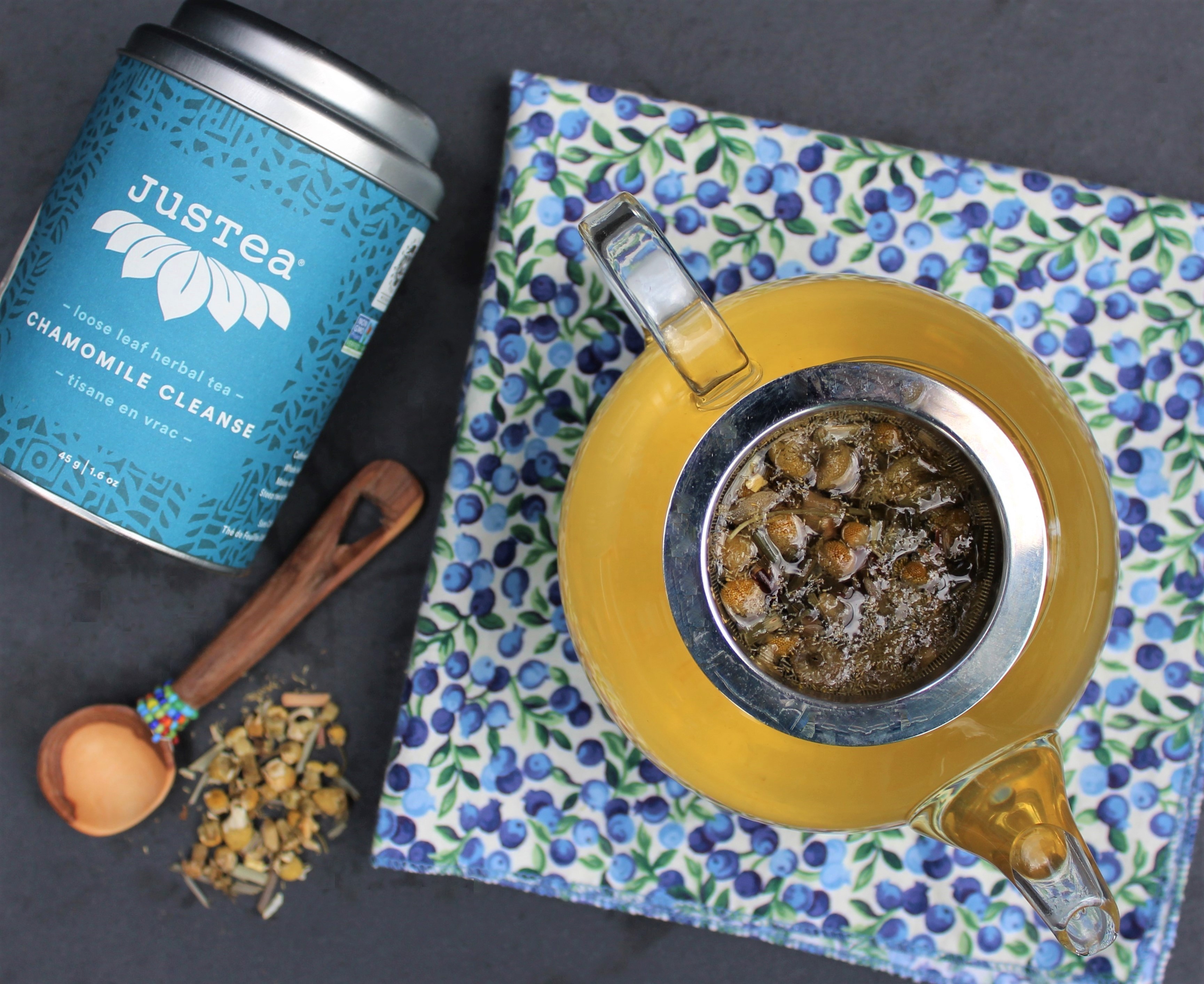 Why JusTea?
When I learned the story behind JusTea, I fell in love with this tea company. Based locally in Vancouver, BC, JusTea is about justly made tea. Their fair-trade tea supports small-scale farmers in Kenya who would otherwise not receive fair or sustainable wages. Since 2012, JusTea has created over 200 jobs for women and children in rural Kenya. The hand-carved wooden teaspoons gifted with each tea order were made by and purchased from 30 woodworking families. Read more about JusTea's story here.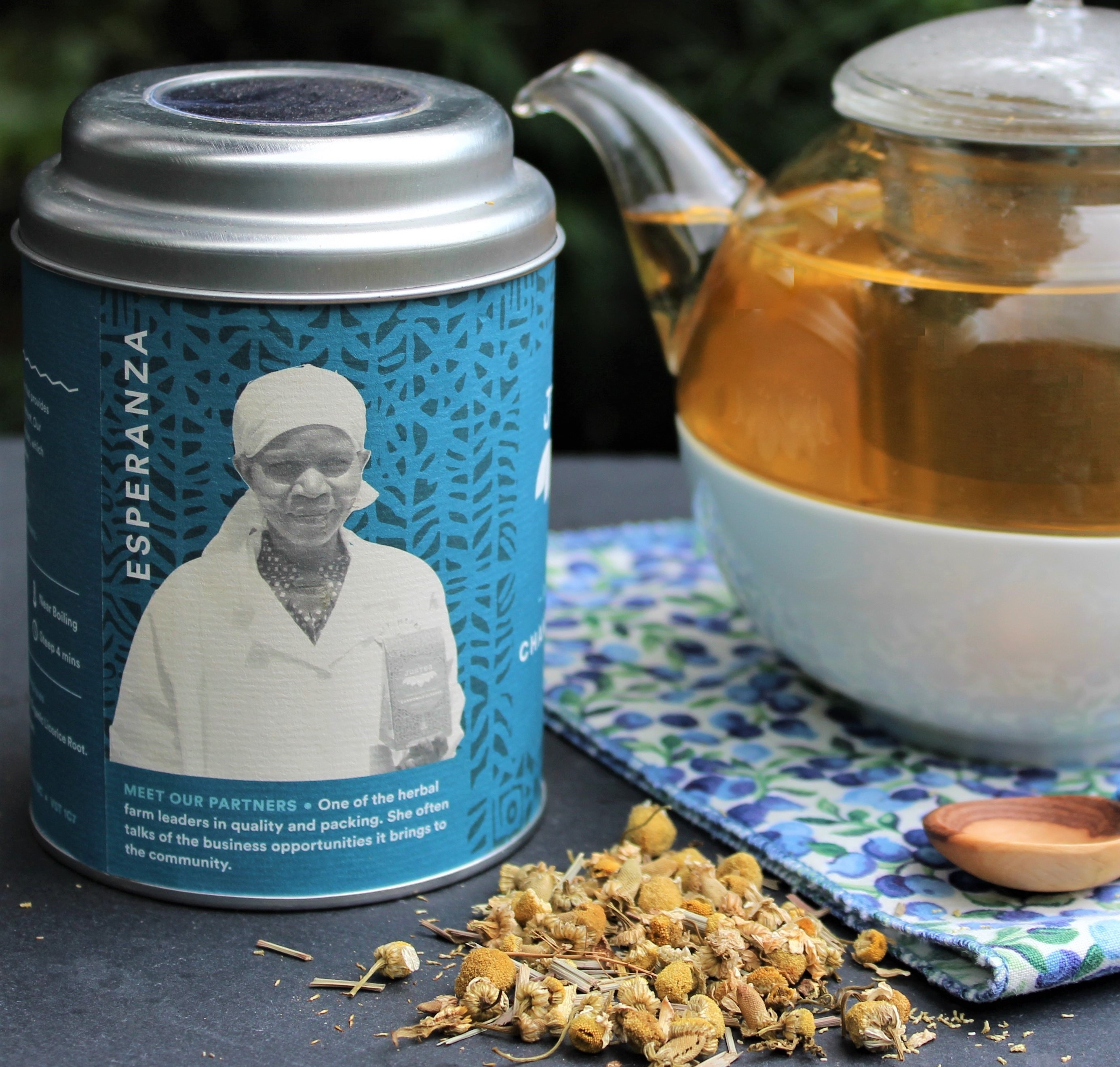 This post was sponsored by JusTea. The Chamomile Cleanse (pictured above) is a blend of organic chamomile, lemongrass and licorice root.
Pin For Later: