The food we put in our bodies greatly impacts our health and well-being. A plant-based diet, for example, has the ability to help prevent and heal disease. A particular group of herbs, known as adaptogens, work to assist our bodies cope with physical and mental stressors. A simple way to incorporate adaptogens in our diets is to add them to smoothies. Let's take a look at the scientific evidence backing the use of the adaptogens featured in this berry smoothie.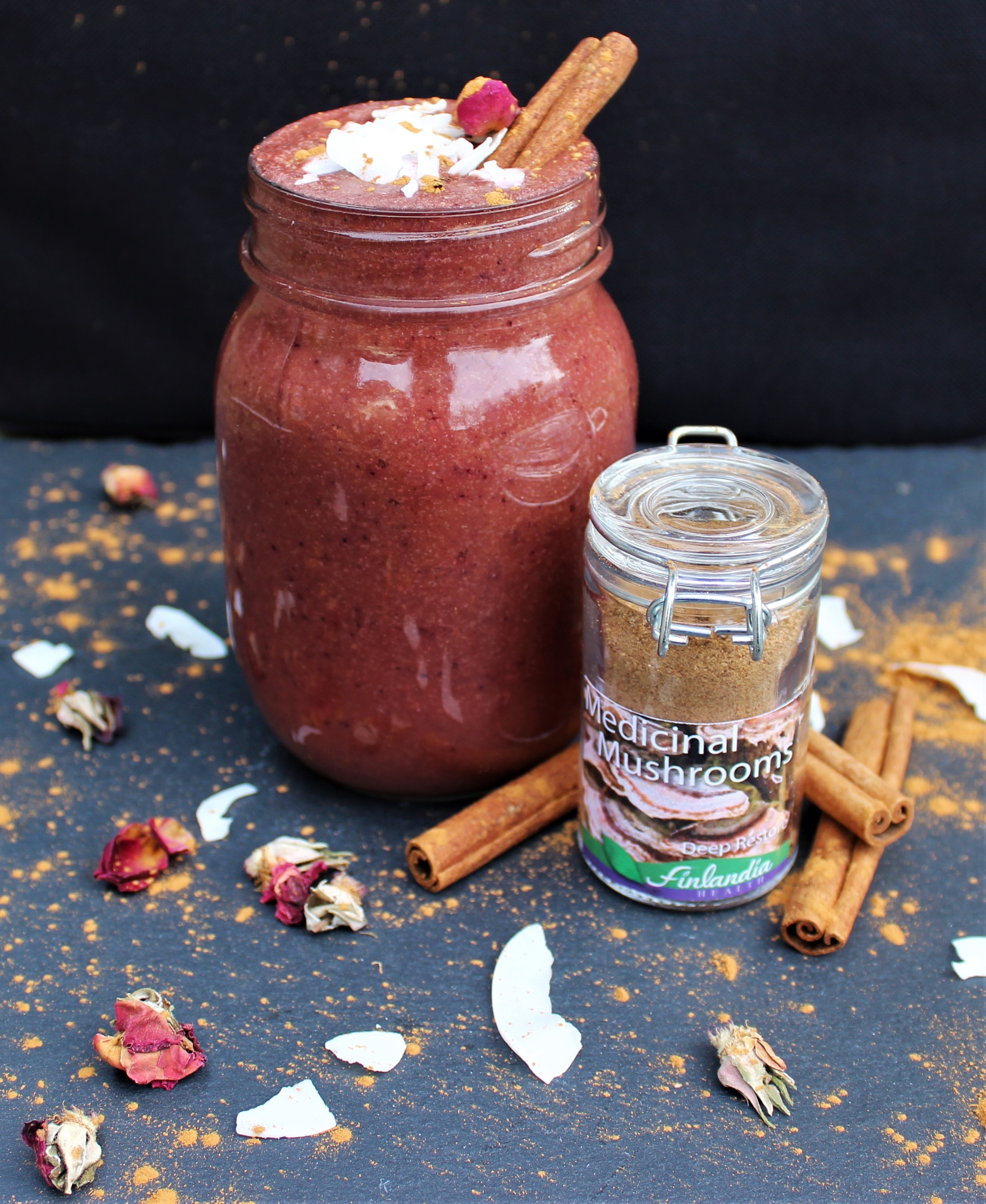 Important: Some people should take caution when using herbs, such as maca, ashwagandha, and medicinal mushrooms, so always confirm with your healthcare provider first.
Maca
A member of the broccoli family, maca root has been traditionally used as an aphrodisiac around the world. Studies have indicated that maca has a notable effect on enhancing libido and treating sexual dysfunction in women and men. It has also been shown to reduce anxiety, depression, and balance reproductive hormones in postmenopausal women. Maca may also increase overall well-being. 
Ashwagandha
Also known as Indian ginseng, ashwagandha is a powerful herb used in Ayurvedic medicine. The strongest evidence existing on this root shows it can have notable stress-reducing and anti-anxiety effects. A randomized, double-blind, placebo-controlled study found that ashwagandha supplementation reduced cortisol levels and improved self-reported quality of life after 60 days of use in 64 adults who had a history of chronic stress. Another smaller study in adults with generalized anxiety disorder found that 6 weeks of ashwagandha supplementation significantly decreased symptoms of anxiety and depression.
Medicinal Mushrooms
The reported benefits of mushrooms are vast. The effects vary depending on the mushroom but they all share immune boosting properties and are great sources of antioxidants.
Chaga: anti-inflammatory, protects the liver, decreases cholesterol and blood pressure 
Cordyceps: energizing, anti-anxiety, decrease insulin resistance and blood sugar levels, supports proper liver functioning
Coriolis: fights tumor growth, aids digestion, may treat oral HPV
Lions Mane: improves concentration, reduces anxiety and depression, may help treat nerve damage
Maitake: anti-inflammatory, may decrease blood sugar levels, blood pressure and cholesterol
Reishi: cancer-fighter, may support heart health, promote cognitive function
Shiitake: lower cholesterol, antibacterial, anti-tumor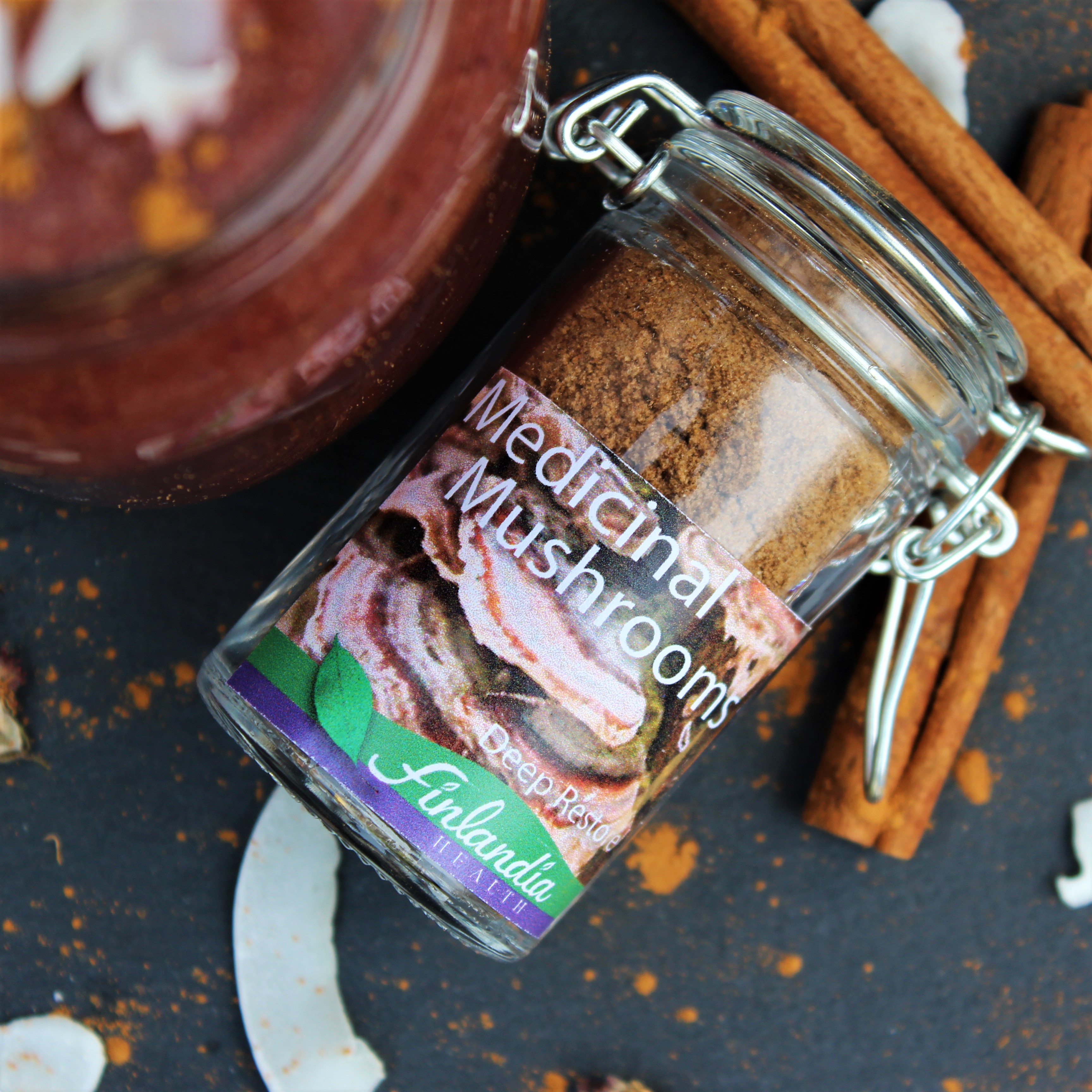 Smoothie Ingredients:
1 cup frozen berries

1 frozen banana

1 cup water

2 tbsp cacao

1 tbsp coconut oil

2 tsp maca (gelatinized)

1 tsp mushrooms (medicinal 7)

1 tsp ashwagandha root powder

1 tsp cinnamon
PIN FOR LATER: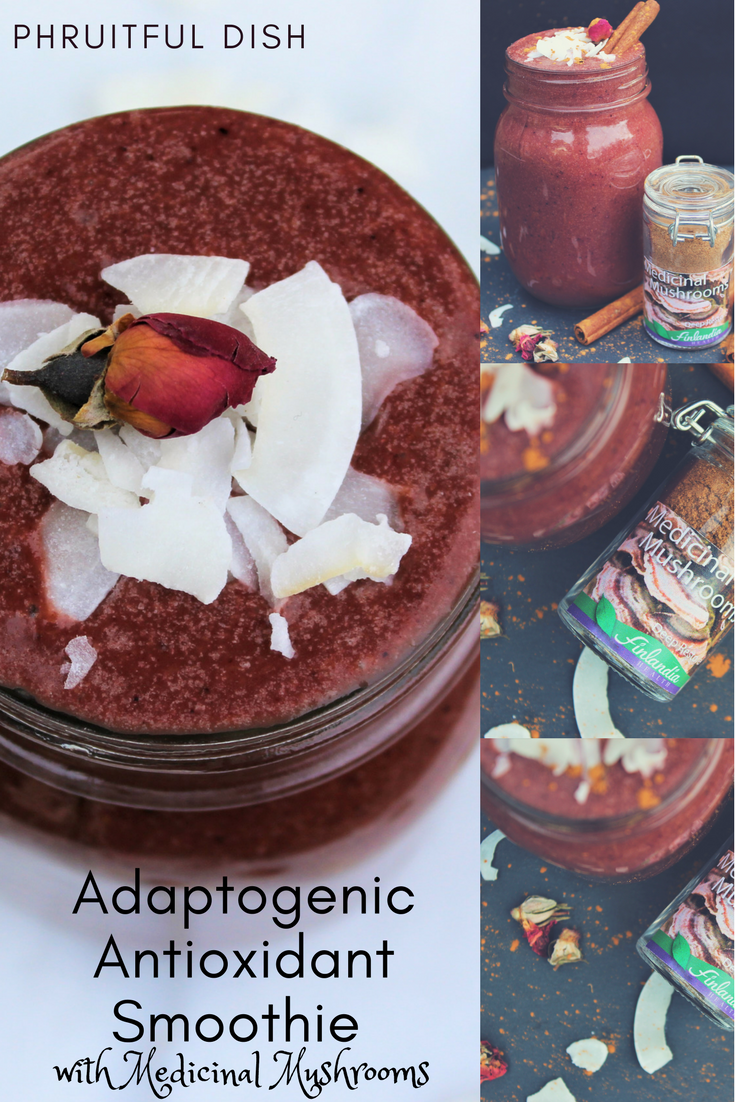 Thanks to Finlandia Pharmacy & Natural Health for sponsoring this post. Check out their website and extensive herbal dispensary at their storefront in Vancouver, BC. I do not receive affiliate commissions on products purchased from Finlandia Pharmacy & Natural Health Centre.